Client Management Made Easy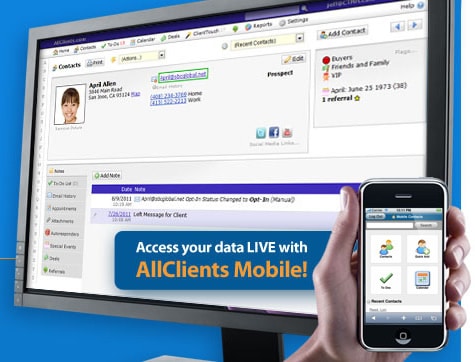 Small and Medium Enterprise or SME usually maintain and manage a number of clients for their services or product buyers. As owners of a small business we need to automate as much as possible most day to day business chores including management of our clients which is the life blood of our business. A new innovative service is available over the web which you don't need to do any setup of server's anymore and maintaining it. AllClients.com is a web base client management service which can be applicable for any industry. It allows you to manage your current customers, help you find new customers and follow-up with your past customers all with minimal effort on your part or your staff. It is designed to make you spend more time with your clients and less time on your computer.
AllClients.com is the most affordable all in one email marketing and CRM solution available in the market today specifically built for the small business owners in mind. It was created way back in 2004 and is continually being updated and upgraded to meet the needs of the clients or users in the United States and in Canada. It became the number 1 web based client and referral management solution for real estate and lending professionals in 2006.
Related Posts: